Overview
The demand for HPC is increasing at public institution, school, laboratory and so on because the importance of data processing speed is continuously increased according to the increasing of mass data and information such as big data, UHD/FHD, simulation and so on. High Density Compute Accelerator provides differential product with other HPCs by using GPU not CPU.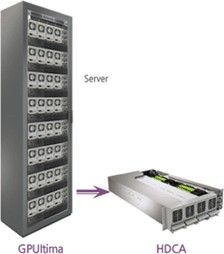 Product Characteristic and Service
4 Integrated Canister
(16 GPU Card)

Expandability -

16 GPU cards are equipped in one device

4 GPU cards are equipped on one canister and 4 canisters are equipped in one accelerator, so has best expandability possible to equip total 16 GPU cards. It is possible to realize best specification the customer want based on this expandability.

Compatible GPU cards

Compatibility -

Possible to use GPU cards of various companies

It is possible to use best specification GPU cards of NVIDA, AMD and Intel actively producing GPU cards in the market. It is possible to interchange the GPU cards the customer want.

CA16000

Effectiveness -

Effectiveness in price and using the space with only one analyzer comparing existing server composition

It is possible to realize complex calculation needing numerous servers only with one accelerator.
It has great price effectiveness substitute for enormous server amount only with one accelerator.
Also, the effectiveness in using the space is very excellent because it reduces the space possessed by several servers and use the space possessed by the server to other usage.
Network Switch
GPUltima

HDCA

Canisters

Compatible GPU cards

NVIDAI Tesla GPUs
Intel Xeon Phi Coprocessors
Geforce GTX 1080
AMD FirePro S9170
Applications
Machine Learning

Deep learning
Image Recognition
Autonomous Cars
Real-Time Voice Translation
Other applications

Finance

Monte Carlo Simulations
High Frequency Trading
Partial Differential Equations
Risk Analytics
Other Applications

Defense

Geospatial Visualization
Intelligence
SAAR
Other applications

Media and Entertainment

Video Stroage
Video Rendering
Color Grading-Video Editing

Medical

Image Processing
Bio Informatics
Simulations

Research

Molecular Dynamics
Numerical Analytics
Weather and Climate Forecasting

Oil and Gas

Seismic Processing and Interpretation Reservoir Modeling